MISAKI KOTONE
(Japanese: ことね . ミサキ - Kotone Misaki )
NAME INTERPRETATION:
琴音 (Kotone; Sound of the Harp)
美咲 (Misaki; Beautiful Blossom )
TYPE: NyankoLoid 00-02 (Pink Cat)
MODEL: SN-16
GENDER Female
VOICE RANGE : D4
AGE 16 (official age)
GENRE Any
CHARACTER ITEM Chocolate Pocky
HEIGHT 171cm
VOICE SOURCE ShiroNekoChii / Syifa Nurrahima
LIKES Cats, Quiet places, Drawing, Singing, Electronics, Weapons, and Desserts

RELEASE DATE December 28, 2011
DISLIKES Dumb or arrogant people, Being selfish, People saying that she is cute, Egoism
PERSONALITY : Misaki is kind girl, much people called she cute, and kuudere, but actually she is Yandere, she acting being cold and calm to another people, and act being childish and moe to centrain people,she likes to eat dessert specially pocky, she's little bit physico whe she so angry
1 Character Design
2 Kotone Saki ♂
3 Voice Configuration
4 Genderbend
5 Extra Character Relation
6 Facts
7 Usage Clause
Character Design
Hair color: Dark Brown (v1) - Black (v2)
Eye color: Blue (right) red (left) wear eyepatch
Cloth: like pirates...brown-white jacket with button 'Shut Down' (v2) Simple jacket white-pink (v1) , actually her jacket has kitty hoodie
Pants: Black Pants + Skirt
Feet: Warm Legs (looks like solitare throuser) + White boots
Headgear: Headphone with Cat ears + Dark Pink hairclips LOOK AT HER CONCEPT ART
Nationality: Indonesian-Japanese
'Different apperance on Version 1 & 2'
Kei Style Kotone Misaki / Ver 1: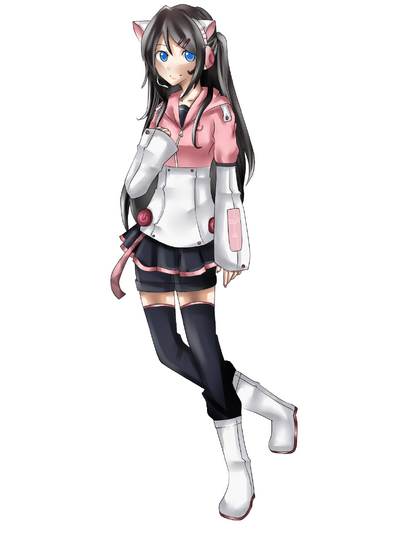 Full Kotone Misaki / Ver 2 / New Design [2013] :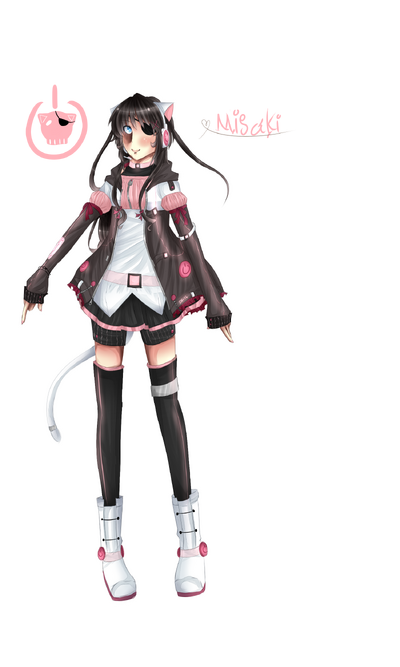 Concept art Kotone Misaki / Ver 2 / New Design [2013] :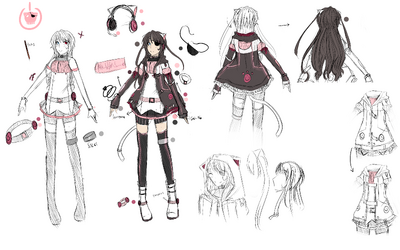 Kotone Saki ♂
Design full (same as misaki v2 )

Name : Kotone 'Mi'Saki ♂ / Saki
Voice : set flag g+18 from VB Kotone Misaki
Likes : Quite Place, Dessert, Books, Study, electronic, game
Dislikes : Crowed, Annoying person
Item : Chocolate Pocky
his personality is different not so far from Kotone Misaki
he is just kuudere not support to Yandere
Calm and Cool always quite and never show his emotional
Not talking to much and poker face
Being Black Cat / Kuro Neko (Misaki is Shiro Neko /White Cat )
He is Misaki's Brother on herself (based on Misaki)
arguably... they're are same.. another self

Voice Configuration
** All Misaki's VB is Supports Romaji and hiragana
ACT 1 : : [NEW]
http://www.4shared.com/rar/RXI4CdEa/Kotone_Misaki_ACT_1.html
+ Fixed .oto by EASYSaeri
ACT 2 : on half record
Kotone Misaki Version 2 : --
Append (Supports romaji and hiragana)
Sweet , Dark , Mature Is on half record

Genderbend
Misaki has a genderbend ..her Brother, Kotone Saki (♂) '> Use g18 on misaki's voice to get his voice

Facts
She Likes Dessert
She is Shiro Neko / White Cat
She likes singing and drawing
She is yandere girl
People Call she is Kuudere
She is Calm and always ignore wherever people said
always practice something
her voice nice for slow song and gore song
She hates crowed, annoying and egoism people, and need quite place
Kotone Misaki 'saki' (boysides) / Genderbender and as her Brother
Her symbols is 'shut down' button
Many people easy to interested to her

Usage Clause
DONT CHANGE any apperances
You can use her voice but with my permission and dont forget to credits me
Please DONT pitch the voice
DONT CLAIM Kotone Misaki belogs to you
You can Fix her oto.in but ASK me first
DONT COPY her voice bank
Use Free but DONT steal the Voice bank
This voice is NOT FOR SALE
DONT be slander
Please do not change anything here without my permission !!!
- SHIRO NEKO CHII
- FROM WIKIA : http://utau.wikia.com/wiki/Kotone_Misaki